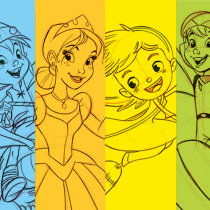 AniMA.The Magic of Animated Cinema from Snow White to Grendizer
Prenotazione gratuita obbligatoria chiamando il numero  055 2760552 o  inviando un'email a info.palazzomediciriccardi@musefirenze.it.
Obbligo mascherina.
Misurazione della temperatura. 
L'ultimo ingresso è un'ora prima della chiusura.
A timeless story, a unique opportunity to admire drawings that are true works of art, the first film studies that have also made the history of animated cinema. The exhibition features illustrations made in the pre-production and production phase of Disney masterpieces - such as "Sleeping Beauty", "Snow White", "Robin Hood", "101 Dalmatians", "The Sword in the Stone" and many others - and retraces the history of animated cinema through unique pieces such as the frame of the first animation in the modern sense, Gertie the Dinosaur.
Within the exhibition there is also an educational section, which allows adults and children to discover the "behind the scenes" of animation: the studies of the characters, the preparatory drawings for the environments, the experiments on color and much more.